8 Nov 2020: the day that all the emotions hit at once.
A day that goes down in history, in world politics and beyond. Joe Biden and Kamala Harris have taken back power, ending Donald Trump's administration. It is overwhelmingly beautiful - not only have the Democrats won, but America showed up and voted in numbers never before seen, in all history. And the majority of those people, and the majority of the states, elected a leader who supports humanity, the environment, women, people of colour, migrants, LGBTQIA+ individuals, and many other minorities. We need leaders who discourage racism, white supremacy, homophobia, transphobia and sexism. To add to this victory, Kamala Harris is the FIRST EVER female, AND African-American AND Indian-American Vice President in the USA. What a significant moment.
After the year that has been, (quick summary: pandemic, recession, black lives matter, beirut explosion, tens of thousands of deaths, unemployment, major loss to the arts industry, to name a few), this week and last, I had the privilege to bring my band back together and to play music to sold out audiences across NSW. 
Post show blues
The word "band" doesn't really paint the full picture - a band is a combination of musicians who make music together. These beautiful and talented humans have been with me for a long time now, bringing my music to life, bringing my vision to life, being the best friends I could ask for, people whom I can call and lean on in times of crisis or sadness or being overjoyed - people who can read my mind when I make a mistake in a song, people who already know which chord or section of my songs comes next when they haven't heard the song in full yet.  The people who feel genuine joy when I feel joy. And vice versa. When they're happy, I'm happy. Family.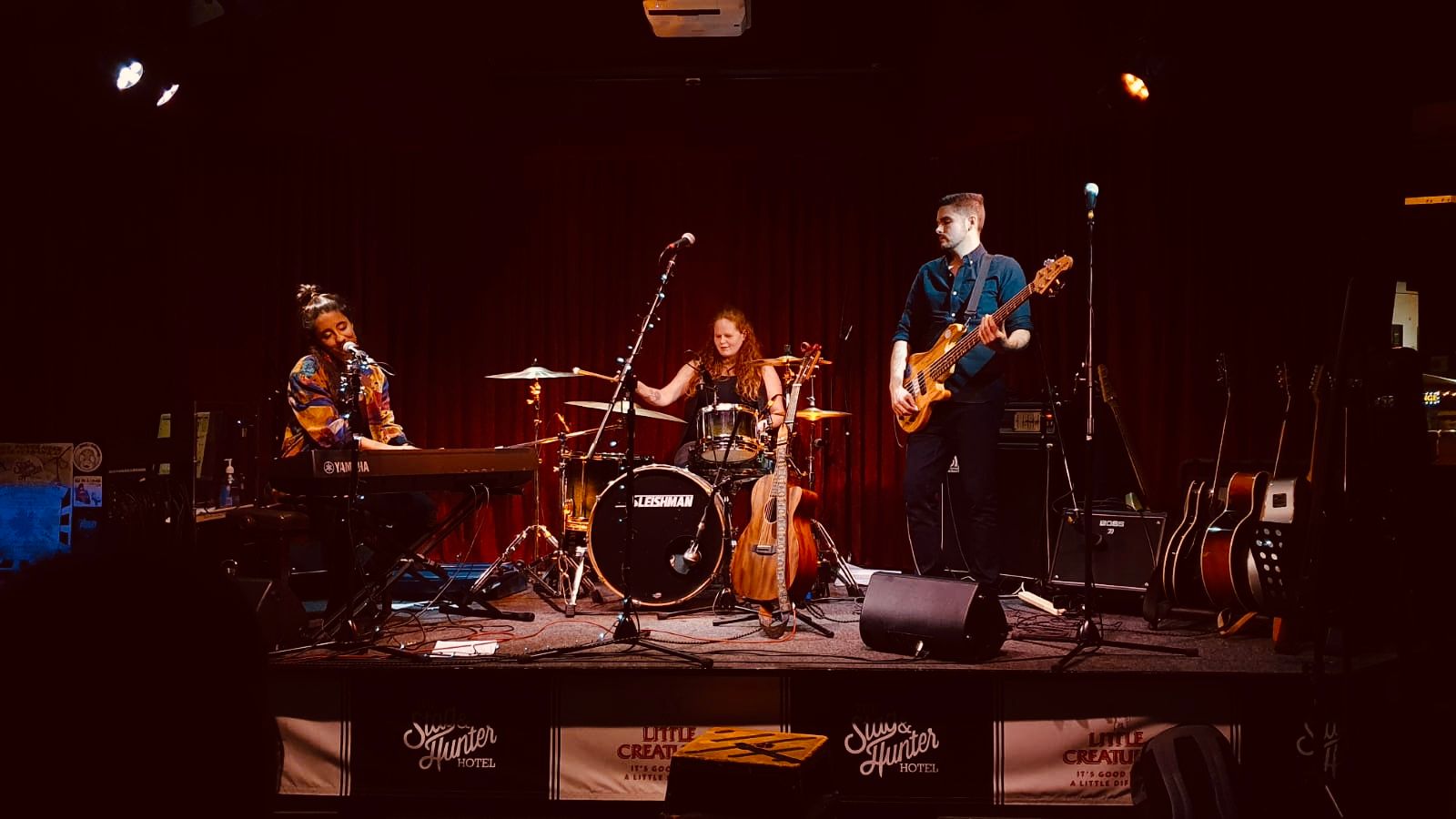 Find your people
"Finding your people" - something we are all doing, every day of our lives - is so crucial to a sense of fulfilment, belonging, and human-ness. My new single "this is what it means to be human" talks about exactly this. That all the emotions we encounter, all the good and bad, is all part of the experience. If it's not up and down, it's not life. To have found my people in this way, means more than my words on this blog page can express. My definition of success in life is to be surrounded by people who engage and love you, and whom you love right back. To be able to create and perform art with such people is such a blessing. No matter what I go on to do in my life, I feel that success is here. It's really important to hone in on that thought process. 
As I sit here on my lounge in my Newcastle home, waiting for my take away food to arrive with my partner and watching greys anatomy, I'm taking this all in. The birds are singing in the tree just outside my window and the fresh afternoon air is flowing in to my living room. I'm so tired, but exhilerated. I've spent the day with some of the team, had a small bike ride (endorphins = very important after such a rush (and then almost depletion) of dopamine), and now i'm mentally preparing for a big assignment I have due tomorrow night for a post-grad diploma I'm doing (a story for another time). 
The Sydney shows (2 seatings, Camelot Lounge, Marrickville) [SOLD OUT]
Sold out, loving audiences sat at a safe 1.5 social distance and listened and laughed with me as we shared music. My band pulled together after 10 long months of being separated from what we love most - playing shows together. We rehearsed a couple of times in the lead up, and it was just the best feeling in the world, to be back together. After getting back into the swing of life (Post grad study, working, new softball team, a very sick pet, and all of life's regular demands), I was EXHAUSTED before the shows even began. This affected my performances in Sydney significantly. But I still had a wonderful time. An AMAZING review - you can read it here.
The Newcastle show (Great Southern Nights x Aria Official, together with the Stag and Hunter, presents Dani El-Rassi co-headline with Lili Crane and Paris Grace) [SOLD OUT]
It was even better than Sydney (sorry guys!). Everything lined up perfectly for this night. My energy was restored after I took some days off work and study and exercise to recover from a cold (read: covid test was negative!) and I just slept and slept. I couldn't stop sleeping! It paid off. Slowing introducing exercise, drinking loads of water, working hard on my vocal exercises and microphone technique at home, communicating with the band, crafting the perfect set list, loads of organisation with the venue.... it was just all worth it. I would replay that night over and over if i could. 
We were also lucky enough to receive a government grant for this show (Great Southern Nights Festival) and we were stoked to be a part of it - thanks to Mick at the Stag for facilitating this. My band played beautifully as always and I feel more and more connected with them each time we see eachother and perform. (thank you lauren, ethan, and amy i love you guys beyond words. thank you sticking with me through this journey 💕)
you can follow us on instagram AT:
DANI - @dani.elrassi
AMY - @photographybyalt
ETHAN - @ethanonbass
LAUREN - @ladrummachine
Tomorrow life goes back to normal - work, study, bills, life. But all this energy and the wave of emotions just has me preparing for the next single release, the next plan, the next run of shows... already can't wait to be back with the band 😭
If you've made it this far through the blog, I'm 1) amazed and 2) grateful that you felt like reading it all... thanks for the time you just gave to me. If you're reading this and haven't seen me play live, please do come along to one of the next shows. I'd LOVE to meet you and know who it is, out there in the world, who is actually reading this word vomit 😂
Much love, always. Have a beautiful week!
Dani xx